Here is good news for those who are on their feet a lot: there are several good ways to relieve the strain on your feet and legs while walking or standing – before it's time to lie down.
If you work in sales or service, you probably get tired feet and legs often enough. Standing for long periods of time, sitting a lot, it's no fun. When your legs tingle, get heavy, swollen, itchy, it is more than uncomfortable. It may be a sign of weak veins. Or maybe your legs are simply overworked. And even if you like to wear high heels, you know how incredibly painful stressed feet, bunions and cramped calves can feel.
So many of us have experienced tired heavy legs: in our own family, among colleagues, due to diet, smoking, constitution – there are many reasons. So it is good that something can be done.
Putting up your legs and other heavenly tips
If you have heavy legs, you have probably tried a lot of well-intentioned tips.
What has helped many:
✔ Do not cross your legs when sitting ✔ Go for walks, hikes, walking, jogging and cycling ✔ Walk barefoot a lot ✔ Climb stairs ✔ Only wear shoes in which the toes can move sufficiently ✔ Alternating baths for the calves ✔ Give up smoking ✔ Pay attention to your diet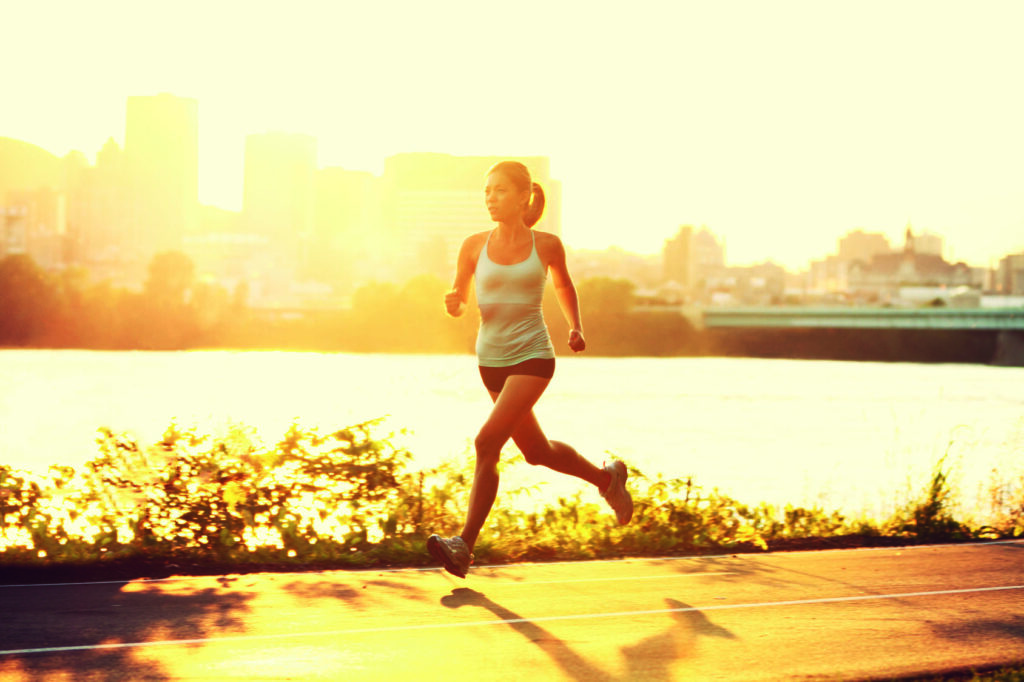 Take this if you like secret tips …
Have you ever treated yourself to a foot reflexology massage? Or a pleasurable walk over round, sun-warmed, flattering pebbles? It's the dream, isn't it? There are these different zones on the soles of the feet that always interact with the whole body because nerve pathways connect the feet and the internal organs. That's exciting and such a massage is often enormously beneficial. Do you know that there are even carpets that bring this massage effect into your home, e.g. into the bathroom? Try the MagnetStep foot mat, for example, if you want to exercise your toes, feet and legs and are looking for a way to strengthen and relieve your legs. You can get it from Magnetix Wellness.

Give the blood circulation in the legs a boost
Those who are on their feet all day are often surprised that their legs are still heavy. The intensive care balm with CBD smells pleasantly light and contains arnica, verbena and horse chestnut. Horse chestnut? Exactly – this is the plant that is known by everyone who wants to do something for strong veins and their connective tissue. Try it when your legs are really burning and exhausted. The intensive care balm with CBD from Magnetix Wellness will probably feel wonderfully cooling – and you're sure to like well-groomed feet and legs.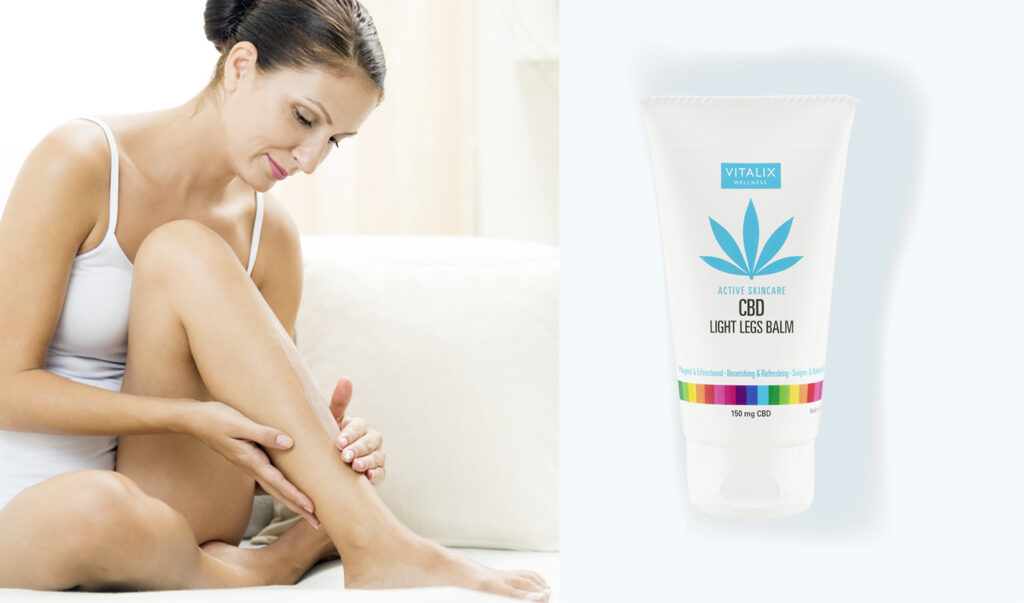 Another thing you should definitely try: combine the Power Heart with the Hot & Cool Pack, which you can also find at Magnetix Wellness. Simply use the Hot & Cool Pack as you probably already know it from heat and cold therapy at the physiotherapist's: whenever you need to quickly relieve pain and tension. The Hot & Cool Pack is the quick idea for at home or to take with you
Hot or cold, only you decide. You will soon see whether your body likes the heat or whether cold is good for you when your legs are bothering you. The Hot & Cool Pack can be used in the fridge as well as the microwave. In any case, you have help at hand right away and can take specific action, e.g., if varicose veins are bothering you.
The Hot & Cool Pack can also be combined wonderfully with the Power Heart with extra strong magnets, which you can also find at Magnetix Wellness.
Another insider tip for people who are on their feet a lot: the magnetic insoles from Magnetix Wellness made of genuine cowhide. They are suitable for any closed shoe and adapt to any foot shape. They are popular with frequent walkers who are often plagued by pain in their feet, calf cramps or water retention. Each contain 10 integrated neodymium magnets.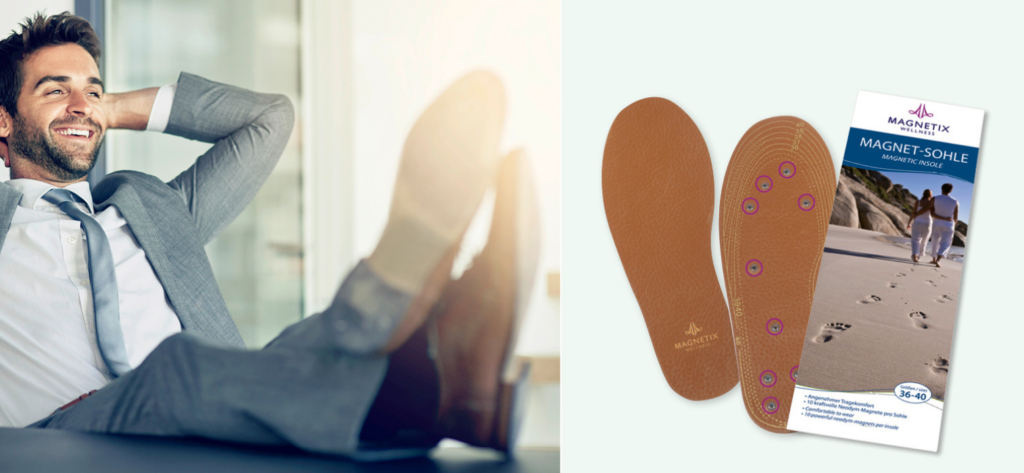 The fashionable anklets from Magnetix Wellness are a pretty finishing touch and a beautiful adornment – with strong neodymium magnets integrated into a wide variety of motifs.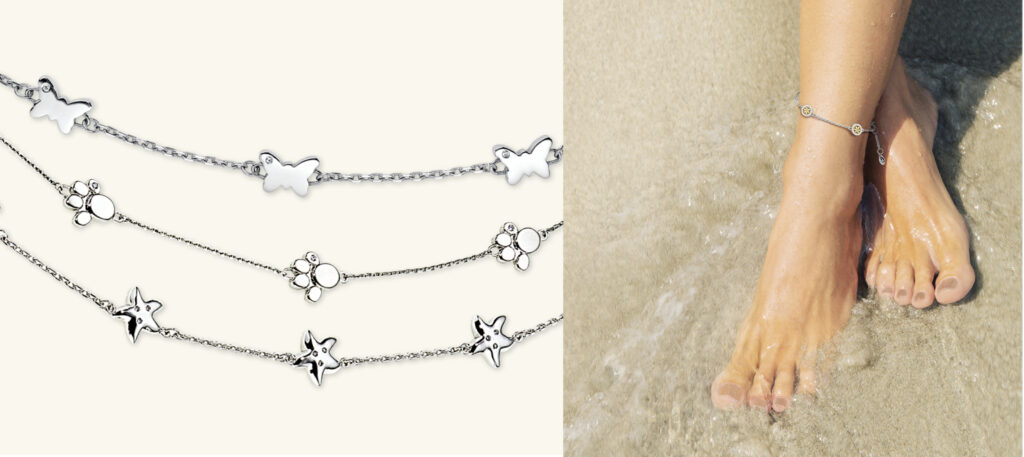 And otherwise: wherever you have a chance – put your legs up! So that your legs and feet feel better …
You can find more on the topic of Wellness & Health here: Health & Wellness Archive – MAGNETIX WELLNESS | Magazine